CRANE SUPPORTS LOCAL CHARITIES
February 16, 2011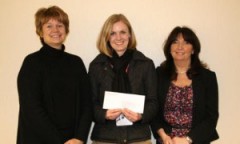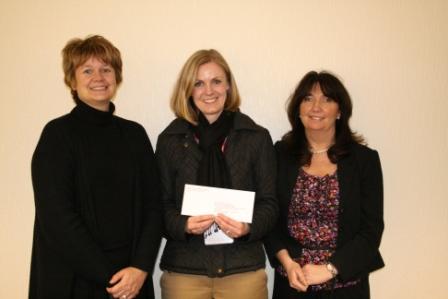 From left to right: Judy Lumsden (Crane BS&U), Madeleine Fletcher (Alder Hey), Teresa Wright (Crane BS&U)
The Crane Philanthropic Funds has provided grants, totaling more than £26,000, to support a number of local charities and not-for-profit organisations. Every year, charities are nominated by employees of Crane Building Services & Utilities. They are then reviewed and those with particular affiliation with staff or their families are selected.
This year, donations were made to the following local charities/ organisations:
Alder Hey Children's Hospital, Merseyside
As Europe's largest children's hospital, Alder Hey treats over 200,000 children and teenagers each year. It is a Centre of Excellence for children with cancer, heart, spinal and brain disease.
Madeleine Fletcher, Senior Fundraising Manager at Alder Hey discussed the value of such donations; "The hospital relies on donations such as the one made by Crane, we are extremely grateful for their generosity. Such support allows us to improve the quality of life for some of the 250,000 young patients we see each year at Alder Hey, Europe's busiest children's hospital. We are honoured to have been nominated by staff at the St Helens factory, and thank Crane for their generous donation- it really will make a difference."
East Anglia Children's Hospice
EACH provides care and support to life-threatened children and their families throughout Cambridgeshire, Essex, Norfolk and Suffolk. This is delivered either in the family home or from one of the charity's three hospices: Milton in Cambridgeshire, Ipswich in Suffolk and Quidenham in Norfolk.
Andrew Mangeot, Trusts Fundraiser at EACH said: "This particular donation was for our Treehouse Appeal, a project which requires £3 million in order to build and equip a new children's hospice in St Augustine's Gardens, Ipswich. The hospice will provide a number of services including short-break stays and end-of-life care for children with life-threatening illnesses and their families. We are grateful for all donations from local businesses, including this generous one from Crane. The donation will help us reach our £3m target and allow us to complete the project."
Families In Need (FIND) Ltd, Ipswich
FIND is a Christian based charity which gives emergency assistance to those affected by poverty or dispossession, around Ipswich, in the form of free food, clothing, bedding etc.
Grown Up Congenital Heart Patients Association
GUCH is a national charity which supports young people and adults with congenital heart disease and works with the health services to make sure patients needs are met.
Keech Hospice Care, Bedfordshire
Keech run 2 hospice services; one for adults in Luton and South Bedfordshire and one for children across Bedfordshire, Hertfordshire and Milton Keynes. Its aim is to give patients the highest quality of life and provide essential support for family and friends during illness and bereavement.
St. Helena Hospice, Colchester
St Helena Hospice aims to meet the physical, emotional and spiritual needs of those with life-limiting diseases and provides support to relatives before and after the loss of a loved one.
The Wilby Riding for the Disabled Trust, Northampton
The trust offers disabled children and adults the chance to learn how to horse ride. As well as providing a feeling of freedom and independence, horse riding can help with co-ordination and strength.
Crane BS&U manufacture and supply a full range of traditional and commissioning valves for HVAC applications, as well as water couplings, valves and connectors, and fittings for the safe transmission, control and connection of gas. The Company operates over four sites in the UK. It's headquarters are located in Ipswich, Suffolk, a distribution warehouse is in Northampton and it's manufacturing facilities are in Hitchin, Hertfordshire and St Helens, Merseyside. The Company regards its corporate social responsibility highly and is dedicated to giving back to the communities in which it operates.
Crane Co. (www.craneco.com) established The Crane Fund, in 1914, to "provide a means for giving support to deserving and needy employees after they have, by reason of age or disability, become unable to engage in active work". Today, the importance of employee welfare still resonates throughout all Crane companies.
Judy Lumsden, Managing Director of Crane BS&U notes, "We understand that as a UK manufacturer, we can make a difference each year, to worthy causes. However, The Crane Fund goes beyond corporate responsibility, it reflects the core values of our business. The welfare of our employees is of paramount importance to us, so it is particularly important that all employees have the opportunity to nominate charities that have made a difference to their lives.'
Presentations have taken place over the last few weeks, in which cheques were given by the Crane BS&U management team to representatives from the charities/ organisations.