Viking Johnson Product Secures SBWWI Innovation Award
November 24, 2009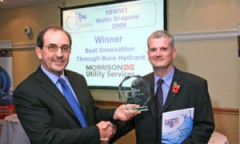 An innovative, cost-saving product developed by Viking Johnson, in consultation with Morrison Utility Services, has won the acclaimed SBWWI Water Dragons Innovation Award. Viking Johnson is a leading brand of Crane Building Services & Utilities. A second Crane product, developed under the WASK brand, achieved the runner up position.
The Through-Bore Hydrant, winner of the Best Innovation Award, is a product that allows easy access to pressurised water distribution mains. Pipe inspection, maintenance or repair is achieved without the need for excavation or extensive highway occupation. The Through-Bore Hydrant allows water companies to maintain continual water supply to customers during repair/maintenance activity as well as achieve a significant reduction in costs, health & safety risks and traffic disruption.
The WASK Aquastop MKII, the award runner up, has been developed to deliver a fast and efficient under pressure line stop capability for water distribution mains. The product offers time and cost savings as it allows for a significant reduction in the excavation footprint and a double stop-off can be deployed within 30 minutes of the main being exposed. In addition, the by-pass facility enables the repair or system extension to be completed without disrupting the supply of water to end users.
Viking Johnson and WASK have been working with Morrison Utility Services and Yorkshire Water in trials of the products, which have already proven successful in the field.
"We are delighted that the ingenuity and hard work of our research and development teams has been recognised and thank Morrison Utility Services for their contribution," said Jonathan Clegg, Product Engineering & Quality Director at Crane Building Services & Utilities. "We will continue to support the water companies and contractors in their drive to improve all aspects of water and waste water service delivery."
For more information on the Through-Bore Hydrant or the Aquastop MKII please contact Simon Shand-Brown, Group Marketing Communications Manager on 01473 277300 or sshand-brown@crane-ltd.co.uk.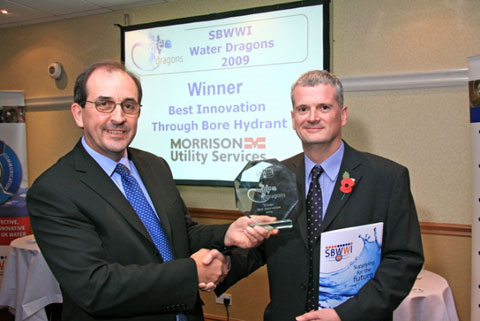 Jonathan Clegg, Product Engineering & Quality Director, Crane Building Services & Utilities (right) and Tony Hanks of Morrison Utility Services