VJ & WASK Feature on BBC2's Watermen: A Dirty Business
June 2, 2014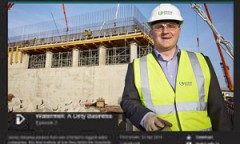 Viking Johnson's MaxiFit and EasiClamp and WASK's Aquastop have all recently featured in a new prime time observational documentary – Watermen: A Dirty Business.
Watermen: A Dirty Business follows United Utilities (UU) 9,000 strong workforce as they ensure that safe and clean water reaches UK homes 24 hours a day, seven days a week, 365 days a year. It highlights the complex operation which happens behind the scenes from customer services to our own skilfully engineered products and ground-breaking projects.
During Episode 2, United Utilities (UU) install a MaxiFit Coupling for pipe jointing and later on the EasiClamp for quick repair can also be spotted! The challenges are highlighted by the enormous UU water pipeline network - 42,000 kilometres.
WASK's Aquastop is also seen in action during the same episode. Aquastop is an ideal and effective solution for temporarily stopping flow in an operating pipeline & enabling repair and renovations to be carried out without disruption to the customer network.
To view the series visit iPlayer here.
United Utilities has a market capitalisation of nearly £6bn and serves a region where more than seven million people live and work.