WASK Equipment Used to Replace 1000 Yorkshire Fire Hydrants
June 14, 2009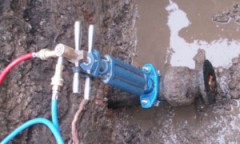 Crane Building Services & Utilities has supplied equipment under its WASK brand to replace more than 1,000 defective fire hydrants for Yorkshire Water over the past year.
Traditionally, hydrant replacement is accomplished by shutting the main, either using valves or normal line-stopping equipment. Both these procedures can involve depriving surrounding properties of water supply and disturbing sediment in the pipes.
The WASK Hydrant Wizard allows fire hydrants to be replaced without major excavation work or the need to cut off the customer supply. Sediment in the main is not disturbed and the costs of labour and materials are kept to the minimum.
The Hydrant Wizard isolates the hydrant by inserting a small Sarco Stopper stopping bag into the 'leg', between the hydrant and the main, through a small hole which is drilled under pressure. The bag is automatically inflated to obstruct the pipe, enabling the old hydrant to be removed and replaced. The water supply to the new hydrant is restored by deflating and removing the bag. The access hole is then plugged.
The new WASK Hydrant Wizard has now been used in more than 1,000 successful hydrant replacement operations by two of Yorkshire Water's key long term contractors, Morrison Utility Services & H20. Throughout these operations, the water supply to around 100,000 homes within the Yorkshire Water region was maintained.
Tony Hanks of Morrison Utility Services said: "The WASK Hydrant Wizard is enabling us to provide a better service to Yorkshire Water and, ultimately, to its customers. The innovative design eliminates disruption to water supplies during the process of hydrant replacement."
Recent work has seen the Hydrant Wizard used for hydrant replacement in Leeds, York, Hull, Doncaster, Sheffield, Bradford and Wakefield.
In May 2009 the WASK Hydrant Wizard was a winner in the Most Innovative Use of an Existing Technology category in the 2009 Water Industry Achievement Awards.
A WASK Hydrant Wizard being used on site.

A demonstration model of the WASK Hydrant Wizard showing the flow cut off by a stopper bag inflated in the pipe.

A demonstration model of the WASK Hydrant Wizard.