Crane Co. History
Crane Co. is a diversified manufacturer of highly engineered industrial products. Founded in 1855, Crane Co. provides products and solutions to customers in the chemicals, oil & gas, power, automated payment solutions, banknote design and production and aerospace & defense markets, along with a wide range of general industrial and consumer related end markets. The Company has four business segments: Aerospace & Electronics, Process Flow Technologies, Payment & Merchandising Technologies, and Engineered Materials. Crane Co. has approximately 11,000 employees in the Americas, Europe, the Middle East, Asia and Australia. Crane Co. is traded on the New York Stock Exchange (NYSE:CR).
Richard Teller Crane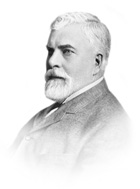 Crane Co. was founded by Richard Teller Crane, who, though born in New Jersey, moved to Chicago in 1854 while in his early twenties to work for his uncle who ran a successful lumber mill on the southwest corner of Canal and Fulton Streets. With impeccable foresight and appreciation for the role that Chicago would play in linking the East and West through construction of the transcontinental railroad, Crane launched his one-man business on July 4, 1855. His first production included castings and other articles used to build engines that would help to drive the American Industrial Revolution.
Shortly after founding the company, R.T. joined forces with his brother Charles, renaming the company R.T. Crane & Brother. At the same time, they expanded their product line beyond brass castings to include making and finishing brass goods. In 1858, just three years after founding the company, Crane landed his first major contract to supply the steam-heating system for the Cook County Courthouse in Chicago.
In 1865, Crane built a grand factory at 10 North Jefferson Street, which served as the Company's headquarters until 1915. With every stage of the company's expansion, Crane sought to stay one step ahead of the marketplace. Armed with innovative new products, and a superior and experienced workforce, it was around this time that the company began to produce steam-powered engines for clients that included Chicago's first department store -- Marshall Field & Company.
By 1872, the Company maintained as many as 700 employees. In 1890, the company changed its name to Crane Co. and supplied much of the pipe used for the large central heating systems installed in Chicago's newly developed skyscrapers. Twenty years later, Crane's Chicago plants, which at the time included a large, new plant on South Kedzie Avenue, employed more than 5,000 Chicagoans.
Ultimately, R.T. Crane would lead the company for 57 years until his death in 1912. During his tenure, the company played a major role in transforming the Chicago landscape and workforce, acquiring and occupying 18 different properties located in Chicago and its surrounding areas, as well as employing thousands of Chicago-area residents.
Guiding Principles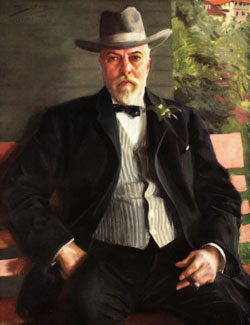 When R.T. Crane founded his company, he did so on basic principles such as honesty and integrity, customer service, and superior craftsmanship, all which continue to be core values of Crane Co. today.
His experience as a child laborer led him consistently to prioritize the comfort, health and safety of his workers. Indeed, Crane was known for taking extraordinary precautions and implementing measures at all of his Chicago facilities in order to protect employees, as well as guard against accidents. As Crane once stated,
"[A] loyal employee gives something besides his labor and the employer should recognize that."
It was also early in life that R.T. Crane learned the importance of skilled manual labor, holding various jobs at a cotton mill, tobacco plant, farm and in the brass and bell foundry trade to provide for his family. In 1891, Crane introduced manual training to Chicago's grade schools, eventually establishing five such schools during his lifetime, and donating liberally for scholarships to help train public school teachers in mechanical instruction. In 1903, the English High and Manual Training School was renamed Crane Technical Prep School in honor of R.T. Crane.
Crane also emphasized and focused on the importance of corporate citizenship and giving -- not just monetarily, but through volunteerism in support of local communities. He strongly believed that "the possession of great wealth brought with it a great obligation," and that organizations should focus on improving the lives of others while also making a positive impact on the world.
At no time in Crane's life was this his belief in corporate responsibility more apparent than during the aftermath of the Great Chicago Fire of 1871.
Call to Civic Duty
Tragically, the fire took a devastating toll on the city that R.T. Crane and the company called home. Though Crane's facilities were spared given their location on the west side of the Chicago River, the fire was ultimately responsible for taking 300 lives, destroying nearly 18,000 buildings and leaving approximately 100,000 homeless. It also completely destroyed the city's water works, leaving Chicago and its inhabitants without a water source.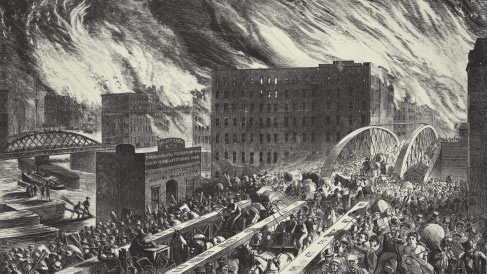 Driven by his keen social conscience and sense of civic duty, Crane decided it was time to begin repaying a debt to the city that gave him an extraordinary opportunity when he was penniless and young.
To that end, Crane utilized a number of his large steam pumps, which he placed at the foot of Madison Avenue on the Chicago River. Relying on steam produced from a locomotive, Crane continuously ran the steam pumps day and night until the city's water works were back up and running again.