Arad County Wastewater Treatment Plant
April 25, 2016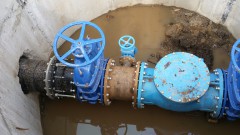 Project: Arad County Wastewater treatment plant
Location: Romania, Curtici City
This project represents the first stage of a long-term investment plan to develop and upgrade the water and wastewater systems in Arad County.
Viking Johnson Dismantling joints
were bought to support the residential network discharge wastewater treatment plantwith normal temperatures. These joints were connected to a 400mm ball valve which was located in a manhole where Curtici city discharge network is received. Upon completion, an additional 69 894 residents will be connected to a compliant wastewater system, with an additional 14 352 connected to a safe drinking water supply system.
Viking Johnson has maintained a strong relationship with all engineers, distributors and contractors throughout the project, being on hand to offer technical advice. Site manager Jurchescu Marius said:
"We were very impressed with the product lead time; we had everything we needed within 3 weeks. The products themselves mounted really fast, and we were very pleased with the products Rilsan coating".