Charitable Giving Presentations 2019
July 30, 2019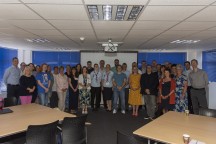 This year Crane Building Services and Utilities associates nominated 12 charities to receive a donation from the Crane Fund for Widows and Children.
Charitable Giving presentations took place in July at the Crane BSU Centenary event in Hitchin attended by the charity representatives and Crane BS&U Associates.
The Crane Fund for Widows and Children provides direct assistance to the underserved by financially supporting local agencies, charities, and schools in the communities where Crane Co. and its subsidiaries conduct business.
"In this our 100th year operating in the UK, it was especially pleasing to be able to invite 12 charities nominated by our associates to join our anniversary celebrations. Presenting donations to support the work these wonderful charities do in our local communities was a privilege which made our great day of celebration even more special." Richard Tuck, President of Crane BSU.