CRANE BS&U APPOINTS NEW DISTRIBUTOR IN HONG KONG
January 9, 2012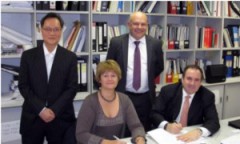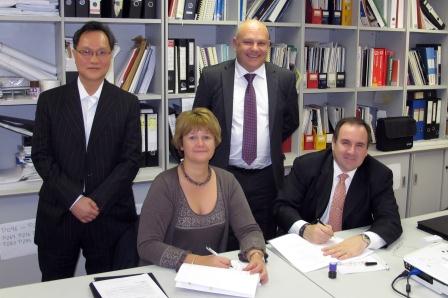 From left to right: William So (Right China), Judy Lumsden (Crane BS&U), David Pye (Crane BS&U) and Gerry McMahon (Right China)
From Jan 1st 2012, Crane Building Services & Utilities has a new distributor in Hong Kong for its building services brands. Judy Lumsden, Crane BS&U President signed an agreement with Right China in November 2011 which gives them the license to distribute products from Hattersley, NABIC, Brownall, Rhodes, Wade & IAT, across China.
Right China is a new venture formed by the owners of Keio Engineering Limited and Facilities Analysis and Control (FAC) Limited. Both organisations are headquartered in Hong Kong, but have operations in Mainland China, Macau, Singapore and the Middle East.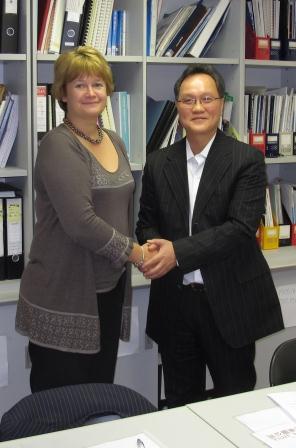 Keio Engineering was formed in 1983 and specialises in the installation of large scale electro-mechanical installations on major construction projects. It has a commitment to quality and counts many of Hong Kong & China's foremost developers amongst their customers.
FAC was formed in 2005, focusing on the commissioning of the major M+E systems installed by Keio and other contractor companies. The commissioning market in South East Asia is in its infancy and FAC strives to ensure that overall standards are raised throughout the region. FAC has successfully completed numerous high-value commissioning projects in the private and public sectors, and has attained a 100% success record in the accreditation of certified Green Buildings. It integrates fully with local environmental bodies and pressure groups in an effort to ensure that the potential energy savings and environmental enhancement offered by high-grade commissioning is fully realised.
Right China Ltd., recognises the need for the availability and affordability of high-quality, commissioning-related products in the region. Gerry McMahon, Managing Director of Right China commented "Hattersley is a renowned brand in the Far East, but is often regarded as expensive in comparison with the, many would say inferior, equipment sold by its competitors. Right China intends to change that perception, by convincing would-be purchasers that the Hattersley brand is a viable alternative to the more established names in the region, and plans to significantly increase Hattersley's percentage of the market for valves and fittings."
For more information please contact Simon Shand-Brown, Group Marketing Communications Manager on 01473 277300 or sshand-brown@crane-ltd.co.uk