Crane BS&U Welcome 4 New Apprentices
July 11, 2016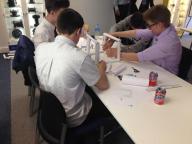 After our Apprenticeship selection event held in May, we are pleased to announce the recent recruitment of four new apprentices to Crane Building Services and Utilities. Based in our Hitchin site, we are thrilled to welcome our new recruits into our Inside Sales, IT, Maintenance and Tooling departments.
The apprentice scheme which will begin in September this year is aimed at 16-21 year olds and involves up to four years of training through a mixture of on the job learning and day release at college. We were extremely pleased with the calibre of applicants and brought a shortlist of 8 to a half day assessment programme on 9th May which involved a relevant team exercise, an interview and putting together one of our valves by following the standard work instructions.
"Schemes like this really help to establish our place within the local community and I know I speak on behalf of everyone involved here at Crane when I say that we can't wait to welcome our new colleagues to the business after they have enjoyed their hard earned summer break." –Scott Dalrymple, Vice President- Human Resources
The day was great fun with all applicants performing strongly. We are looking forward to seeing what such exciting young talent will offer to the business here at Crane. For more information about our apprenticeship schemes, get in touch today.