BS&U Team Volunteer at Triangle Community Garden
March 10, 2018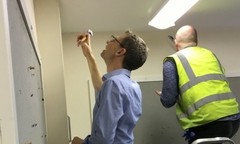 This month a small team from Crane BS&U went along to help the Triangle Community Garden, a charity based in Hitchin, redecorate their pavilion.
Speaking on behalf of the team of volunteers, Chris Gray, Vice President of Operations, had this to say about the day.
"The session went very well indeed. All of our volunteers worked hard with a great attitude and the staff from the centre were very pleased with the amount we achieved.
We repainted the ceilings and cleaned and prepared the walls for painting. With some warmer weather we will be rebuilding some raised beds in April."
Steve Granger from the Triangle Community Garden added, "Friday morning went really well, with a brilliant group of enthusiastic volunteers. The decorating went well and it was good to make such progress with a task."
Crane BS&U will be helping the Triangle Community Garden every month and hope to have a long relationship with the charity.
The Triangle Community Garden is a charitable organisation for people of all ages and abilities to take part in creative gardening activities. They provide projects for people with learning disabilities as well as community events open to everyone.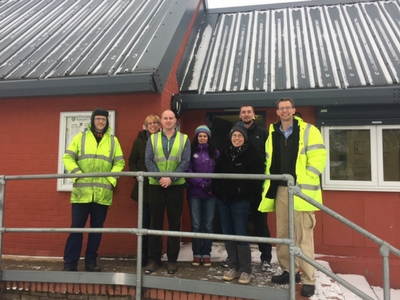 Left to right: Phil Lown, Sharon Tingey, Garry Clawson, Veronica Gomez, Vicky Wyer (Chair of Trustees), Darren Cooke and Chris Gray