Crane Fund Recipients Have Had a Busy 6 Months
June 18, 2018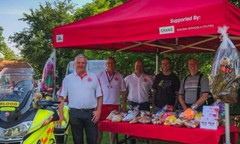 SERV Suffolk and Cambridgeshire, recipients of donations from The Crane Fund for Widows & Children, have been busy fundraising in the first half of 2018.

They have now attended 9 public events and fundraisers in total, taking with them gazebos donated by Crane BSU and the lifesaving motorbike they bought using The Crane Fund donations.

Mike Skinner Publicity Officer for SERVSC added, "The gazebos kindly donated by Crane have been prominent pieces of equipment at a number of these events.

Over the next 3 months SERV Suffolk and Cambridgeshire will be attending 21 public fundraising events throughout Suffolk and Cambridgeshire.

The Crane motorbike has been used on multiple deliveries, including transporting donated baby milk and blood products from Cambridge - and on one occasion even Welwyn Garden City - to the hospitals across Suffolk and Cambridgeshire.

Thanks again for your continued support."