Crane Ltd. 100 Years Young Celebrations
July 4, 2019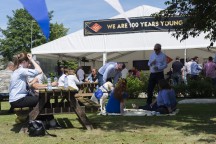 Crane Ltd. marked its Centenary milestone with a celebration at their Hitchin site on Thursday, 4th July 2019.
Over 400 employees attended the event, which included an impressive and diverse range of cuisine, prepared and cooked by a team of associates from the Hitchin site.
A Long Service Awards ceremony was held to recognise the dedication of employees who have served between 5 and 40 years, presented by Crane BS&U President Richard Tuck.
Crane Co. President, Max Mitchell and Crane Co. Senior Vice President, Brad Ellis pre-recorded videos to congratulate all the associates of Crane Ltd.
To see a timeline of Crane Ltd.'s history from 1919 - up to present day please click here.
Videos and photos of the day can be seen below.