Crane Press-Fit valves now approved for use on Pegler XPress and SANHA -Therm Carbon Steel Pipe
March 5, 2014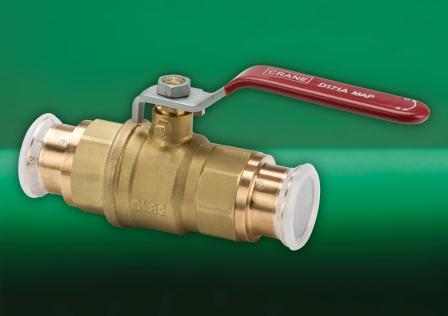 The Press-Fit range of valves from Crane Fluid Systems is now fully approved for use on Pegler XPress and SANHA-Therm carbon steel pipe, in addition to Geberit Mapress carbon steel for any chilled or heated system.
The new approval relates to the press-fit connection* between the Crane Fluid Systems valve and the XPress/ SANHA carbon steel pipe, these connections must be made using the correct Mapress approved Press-Fit tool.
Comprising a ball, balancing, strainer and check valve, the Crane Fluid Systems Press-Fit range have been proven to connect effortlessly, offering building services engineers a variety of time and cost-saving benefits, as well as excellent quality and reliability.
The Crane Fluid Systems Press-Fit valve range is also approved for use with copper pipe meeting BS EN1057 R220 soft copper (15-22mm), R250 semi-hard copper (15-28mm), R290 hard copper (15-54mm) as well as Geberit Mapress stainless steel pipe.
Key benefits of Crane Fluid System Press Fit system are -
· Unique visual press indicator
· Protection plug to prevent any ingress prior to installation
· Defined leak paths – a failsafe against unpressed joints
· Clean heat free joints
· Valves rated up to 120°C at 16 bar
*Crane Fluid Systems will warrant this connection in accordance with its standard terms and conditions provided that the connection is made in accordance with the installation instructions and that the carbon steel pipe meets the following specification: Carbon steel to EN 10305-3:2010 (material name E195, material number 1.0034) with an external zinc coating of 7 to 15µm.
ENDS
Notes to editors:
1. Crane Fluid Systems is one of a number of leading building services brands of Crane Building Services & Utilities.
2. Crane Building Services & Utilities is the trading name of Crane Limited.
3. Geberit is a world leader in advanced plumbing and plastics technologies. Founded over 125 years ago, Geberit has built a reputation for innovation, quality and reliability.
4. Crane Building Services & Utilities employs 600 people in its UK operations at Ipswich, Hitchin and St Helens.
5. Crane Building Services & Utilities has leading brands serving the building services, water and gas markets. For building services, brands include Crane Fluid Systems, Hattersley, NABIC, Wade, Brownall, Rhodes and IAT. WASK and Sperryn offer gas products and Viking Johnson, Posiflex and Helden serve the water market.
6. Crane Limited is part of the Fluid Handling Group of American company Crane Co, a New York Stock Exchange quoted company with net sales of $2.5 billion in 2011. Within this company, the Fluid Handling Group is the largest business segment.