Dubai Distribution Centre Opens For Business
August 12, 2013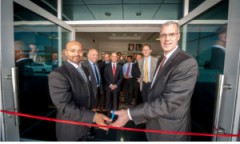 Crane BS&U are proud to announce that the new Distribution Centre in Dubai, is officially open. This new facility will enable Crane BS&U to serve the ever-growing MENA market and operate with even more flexibility.
David Pye, Vice President of Sales, commented that "The response from our customers has been very positive to the opening of the distribution centre. They see the reduced lead times as a major benefit and we are already seeing our customers taking advantage."
This brand new facility will aim to provide distribution partners with better support and a comprehensive service. Crane BS&U have already receieved positive feedback from partners.
Located in Dubai for its excellent infrastructure and central Middle Eastern location, the facility offers an enormous 4,000 square metres of warehouse space, is adjacent to three major roads and opposite to a major freight forwarding facility.
There are a total of nine Crane BS&U employees working at the Distribution Centre. At the head of the facility is Karim El-Berier, the Regional Distribution Manager who is supported by five warehouse associates; Michael Magsipoc, Erikson Tesoro, Jerome Pregonero, Orlando Francisco and Jofrey Panelo. Additional members of the team include: Export/Import Administrator, Matthew John; Shipping/Inventory Controller, Kabeer Hasan and Assembler, Manoj Thangamani.