An Egyptian Milestone
February 1, 2015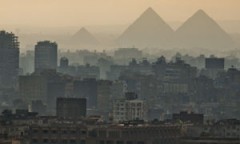 Crane Fluid Systems has supplied a range of general valves to the Mall of Egypt, a five start complex which will include a ski dome.
Once built, the mall will be comprised of 160,000 square meters of retail space with more than 400 shops and over 50 food and beverage outlets. It is set to be the dominant super mall serving the western half of the city as a 'one stop' destination for locals and tourists.
Scheduled to open in 2015, the mall will be a sister brand to Mall of the Emirates, combining a powerful range of retailers with the most comprehensive leisure offering in North Africa.
Crane Fluid Systems valves will be used throughout the HVAC systems, and importantly in the Ski Eqypt ski dome – keeping the air conditioning fully functional.
Majid Al Futtaim is a real estate developer which specialises in the operation of shopping malls in the Middle East and North Africa. Majid Al Futtaim also oversaw Ski Dubai, a large ski dome which brings the first real and complete winter experience to the Middle East.