Hattersley Helps Sustain Heathrow
August 28, 2009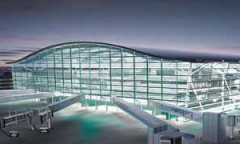 Heathrow Airport, Terminal 5 is Europe's most modern- airport facility. Open in April 2008, it can handle 35 million passengers a year at full capacity. High quality valves and commissioning stations from Hattersley aid ventilation and recycle water throughout the new hub.
Terminal 5 has two separate water sources for non drinking uses - a rainwater harvesting system (RWHS) and groundwater bore holes - which account for 70 per cent of the water supplied to T5. The RHWS uses water extracted from a surface water run-off lake which is pumped back to an energy centre where it is treated for reuse. Together, the RWHS and bore holes enable water to be supplied at a rate of 55 litres per second.
Compact Hook-Ups, part of the Hattersley FlowMaster range, have been installed in the energy centre and throughout the terminal. They are essential in efficiently controlling flow rates of heating and chilled water around the building so that ventilation remains consistent throughout the year. They are connected to fan coils and other HVAC terminal units throughout the site.
Hattersley Compact Hook-Up flow management modules provide flow control, flow measurement, flushing and isolation capabilities from a single lightweight unit. Built from bronze and DZR brass, they are PN16 rated and can be used for chilled or heating water systems from -10°C to 120°C.
The fact that the Compact Hook-Up has only four connections offers significant reductions in installation costs and time compared with alternatives. Electrical and mechanical engineering consultants, DSSR, specified Hattersley valves for the project because of their durable quality, ease of installation and consistent stock levels via distribution.
For this prestigious project, Hattersley valves were supplied via BSS, to subcontractors, Crown House Technologies and AMEC.