Hattersley Specialist Hospital Due to Open in North East
December 11, 2014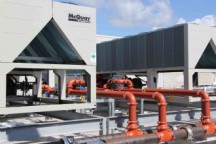 The Cramlington Hospital Project near Newcastle is almost completed, and has over 500 Hattersley Thermal Circulation Valves (TCVs) installed.
The world class Northumbria Specialist Emergency Care Hospital is due to open in June 2015 and is part of a £200million investment in healthcare by the Northumbria Healthcare NHS Foundation Trust.
In addition to the TCVs, thousands of other Hattersley products including ball valves, commissioning valves, differential pressure control valves, double regulating valves and drain valves have been specified.
This revolutionary and state of the art hospital will be the first in England to have emergency care consultants on site 24 hours a day, seven days a week. In addition to emergency care consultants, the complex will also be staffed by some of the country's top specialists.
Hattersley TCVs will help protect against Legionnaires` disease - which can prove fatal. The bacteria can survive under a wide variety of environmental conditions so keeping water hot and moving is essential.
A close working partnership with Balfour Beatty Engineering Services Limited, BBESL, the main contractor, and Pipe Centre Newcastle has been absolutely vital.