Hattersley Valves in South Gardens Phase 1
April 11, 2016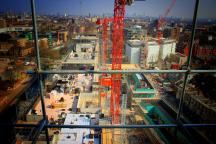 South Gardens is the first phase of Lend Lease's Elephant Park Masterplan, which is set to deliver almost 3,500 new homes, 50 new shops and restaurants and a brand new park that will help to restore nature into the heart of the city.
Project: South Gardens (Elephant Park). Phase 1
Location: London, United Kingdom
Contractor: Excel Pipework
Distributor: Pipe Center City Branch
Project Timescale: Ongoing. Started Oct 2015 – Dec 2016
Through early involvement with Excel Pipework, Hattersley's Key Account Manager Jeff Cooke was able to offer a full take off service with a supported deal set up, as well as the commitment of full service back up including regular site visits.
Hattersley Valves
are currently being installed throughout phase 1 of the newly developed Elephant Park.
"Hattersley give a quality product at a competitive price with a professional and experienced service to back it up. This was major factor in our decision making process."
– Darren Munday, Excel Pipework Ltd
Hattersley Product specifications:
Products supplied: Full range of general valves + PRV
Size: 15mm – 100mm
Hattersley Valves have been supplied throughout South Gardens for Domestic services, Boosted cold water, & Heating Services.
1) Boosted cold water services
2) Packaged plant room
3) Hot and cold water services