Hydrant Wizard Selected as Awards Finalist
April 17, 2009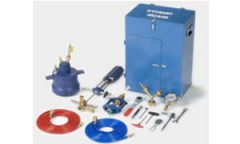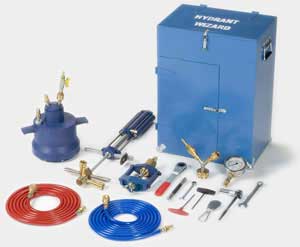 The WASK Hydrant Wizard has been selected as one of four finalists in the Most Innovative New Technology category in the 2009 Water Industry Achievement Awards.
WASK is part of Crane Building Services & Utilities. Its new Hydrant Wizard allows defective fire hydrants to be replaced without major excavation works, cutting off the supply or disturbing sediment in the main. It permits the work to be undertaken much more quickly and at much lower cost than using traditional techniques.
The Hydrant Wizard isolates the hydrant by means of a small stopping bag which is inserted into the 'leg' between the hydrant and the main through a small hole which is drilled under pressure. The stopping bag automatically inflates enabling the old hydrant to be removed and replaced before the water supply is restored by deflating and removing the bag. The access hole is then plugged.
Because flow in the main is not disrupted, water supply to surrounding properties is maintained and there is no disturbance of sediment in the main which could otherwise give rise to complaints about water quality. Excavation is restricted to a small area around the hydrant itself, minimising the costs of labour and materials.
Traditionally, hydrant replacement is accomplished by shutting the main, either using valves or normal line-stopping equipment. This usually means surrounding properties are deprived of water and sediment is then disturbed when the supply is restored, potentially giving rise to complaints about water discolouration.