IPSWICH BASED CRANE DONATES £19K TO WORTHY LOCAL CHARITIES
January 10, 2012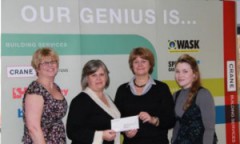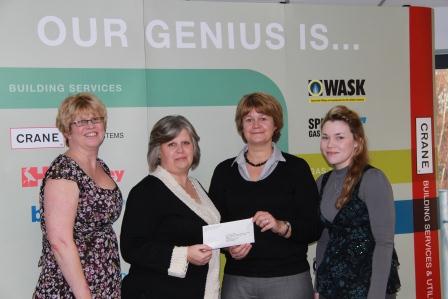 From left to right: Julie Collis (Crane BS&U), Cheryl Thayer (Woolverstone Wish Fund), Judy Lumsden (Crane BS&U) and Victoria Barber (
Woolverstone Wish Fund)
In these austere times Crane Building Services & Utilities (www.cranebsu.com) is continuing to do its bit for local communities in the East. The Woolverstone Wing of Ipswich Hospital is one of 5 charities in the local region who will benefit from Crane Co.'s annual charitable giving programme*. A cheque for the amount of £4386 will be presented to The Woolverstone Wish Fund on Friday 6 January.
Crane BS&U has been an Ipswich-based manufacturer for nearly 100 years. Once a prominent employer in the region, the headquarters remain in Ipswich with UK-based factories in Hitchin and St Helens producing a range of valves and pipe fittings.
Each year, Crane BS&U staff are invited to nominate local charities which have some form of affiliation to them and their families – particularly smaller ones that provide direct services to the needy and disadvantaged in the areas where they are based. This year, The Woolverstone Wish Fund was nominated by an Ipswich employee who underwent chemotherapy at Ipswich Hospital as part of her breast cancer treatment in 2010.
The Woolverstone Wish Fund was created in the summer of 2009 in order to raise money to refurbish the Chemotherapy outpatient clinic and day-unit in the Woolverstone Wing of Ipswich Hospital. The Woolverstone Wish Committee is made up of patients, relatives, friends and staff members and meets monthly to organise various fundraising events. Victoria Barber, Committee Member said: "We are delighted to receive support from Crane. Our current total is £206,000 and the long-term goal is to raise £800,000 to enable the hospital to increase the available space, improve privacy for patients and provide a more comfortable treatment area."
The four other eastern based charities who will benefit from Crane funds are: Addenbrookes Charitable Trust - Cambridge, Luton & Dunstable Hospital Charitable Fund - Luton, Potton Vineyard Church - Bedford, The PSP Association - Northampton.
*The Crane Fund for Widows and Children makes contributions to charitable organisations that provide assistance to communities where Crane Co. operates.