Kuwait, The Avenues, Phase 3 - Crane Fluid Systems
February 4, 2011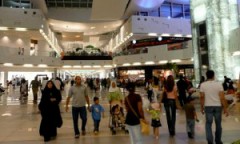 Kuwait, The Avenues, Phase 3- Crane Fluid Systems
Phase 3 of Kuwait's largest shopping destination is underway and consists of more than 86,000 square metres of retail space. The project will be completed in 2012. Located in the Al Rai district of Kuwait City, the mall has been designed by London & Los Angeles offices of Gensler in conjunction with Kuwait developers, Mabanee.
Once complete, the third phase will house 545 retail units. This stage of the project was awarded to Bader Al Mulla, one of Kuwait's top MEP contractors on a very tight time-scale. Crane Fluid Systems together with their distributor, Asia Electro-Mechanical, are committed to holding valve stocks in Kuwait to service this project and ensure no delays. This was a key factor in persuading Bader Al Mulla to place the order for the complete range of valves with Asia/Crane FS.

For more information please contact Simon Shand-Brown, Group Marketing Communications Manager, on 01473 277300 or sshand-brown@crane-ltd.co.uk.