New DPVC Range Extends Flowmaster Family
February 12, 2010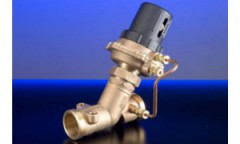 Hattersley - a leading brand of Crane Building Services & Utilities - has launched a range of Differential Pressure Control Valves (DPCVs).
Part of the FlowMaster range of commissioning valves, the DPCV is compact and modern in design and is available for both flow (F300) and return (R300) configurations in sizes DN15 to DN50. The DPCV operates across a temperature range of -10 to 100°C and is PN16 rated.
The stem position is controlled by the differential pressure acting across the diaphragm. The stem closes on rising differential pressure and opens on falling differential pressure. The valve will continue to move in this way until equilibrium of pressure is achieved.
The DPCV can be set on installation to a maximum differential pressure limit of 20 to 100 kPa. Under dynamic balancing conditions, the valve can then be adjusted easily on commissioning as conditions dictate. This ensures that differential pressure cannot exceed the set control limit thus maintaining the control authority of the two port control valve.
Installing DPCVs into a system brings numerous benefits - they control the differential pressure and therefore flow rate, and also help reduce pump energy consumption, when using a variable system. In fact, BSRIA figures suggest that DPCVs help reduce the pump energy consumption of a typical heating system by 60-70%. In addition, the risk of noise is lower and a consistent circuit performance is maintained.
A system which contains a DPCV remains balanced independent of any changes in other areas of the circuit, allowing commissioning to be carried out in sections. This means the entire system does not need to be commissioned at the same time which greatly simplifies the balancing and commissioning procedure.
An impulse tube is supplied with the DPCV to link and transport pressure between flow and return pipework. It plays an essential role in allowing the DPCV to open and close depending on system conditions.
When paired with the Hattersley (DP1732) companion valve, the DPCV can be used to set and maintain a flow rate. By using the DP1732 Fixed Orifice Double Regulating Valve to measure, the DPCV can be adjusted to set the required design flow rate. Any variations in other areas of the system will therefore not impact on the flow rate to the sub-circuit.
The new DPCV is quick and easy to install, has a long life expectancy and is designed to require little or no maintenance.
For more information please contact Simon Shand-Brown, Group Marketing Communications Manager on 01473 277300 or sshand-brown@crane-ltd.co.uk.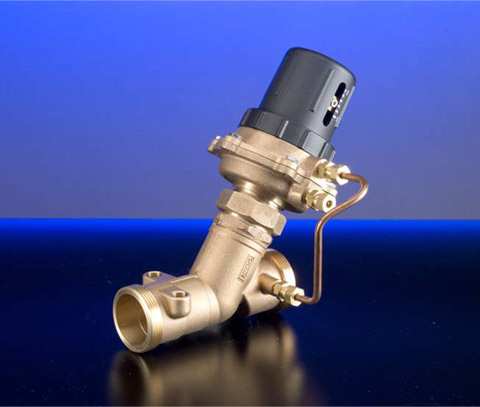 DPCV Valve.