NEW WRAS APPROVED PUBLIC HEALTH RANGE FOR HATTERSLEY
August 19, 2013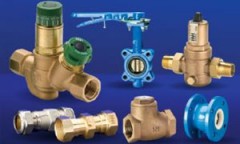 Leading valve manufacturer Hattersley has launched a new range of Public Health Valves, comprising five products that are uniquely designed for hot and cold water systems. The range is WRAS approved and includes Thermal Circulation Valves (TCVs), Pressure Reducing Valves (PRVs), Check Valves, Non-Return Valves and Lever Operated Double Regulating Valves. Most are available in multiple sizes with pressure ratings from PN16 up to PN25.
The new Hattersley Public Health range consists of the following valves:

Thermal Circulation Valves (TCV)
The Hattersley TCVs (Fig.2900 & Fig.2910) provide self-balancing, thermostatically controlled regulation of flow and thermal disinfection, assisting with protection against Legionella. They operate by keeping the temperature of domestic water systems periodically above 70oC to ensure the bacteria cannot develop and reproduce into the "Legionella Pneumophila."

Pressure Reducing Valves (PRV)
The new Hattersley range of PRVs ensures that the appropriate and comfortable water usage pressure is available at all times. They enable the control of pressure from boosted cold water supplies to match site requirements. The new PRV range is available as follows:
Fig.416 (1/2" to 2", PN16) and Fig.425 (1/2" to 2", PN25)
Fig.M416 (DN65 - DN150, PN16) and Fig.M425 (DN65 - DN150, PN25)
This wide range of valves means that Hattersley can now offer PRVs that will regulate water pressure across a variety of different applications.

Single & Double Check Valves
The Hattersley Single & Double Check Valves permit flow in only one direction and close automatically if flow reverses. They are suitable for domestic and commercial water systems such as taps, mixers and showers. Spring assistance enables the valve to be installed in horizontal or vertical pipework, while simultaneously preventing backflow.
The Single Check Valves are available as follows:
Fig.150W & Fig.150CW (PN16) and Fig.155W (PN25)
The Double Check Valves are available as follows:
Fig.250W & Fig.250CW (PN16) and Fig.255 (PN25)

Swing Check Valve
The new Swing Check Valve (Fig.3047W) can operate in horizontal or vertical pipelines provided the flow is in an upward direction. A disc inside the valve allows the liquid to flow through comfortably, but shuts when the liquid attempts to change direction, thus preventing back flow.

Non-Return Valve
The Hattersley Single and Double Non-Return Valves (Fig.150W & Fig.260W) are specifically designed to allow flow of fluid in one direction only and to prevent reverse flow of fluid and contamination in domestic cold water supplies. They are now available in large sizes from DN50 to DN250.

Butterfly Balancing Valve
The Hattersley Butterfly Balancing Valve (Fig.973W) contains a double regulating feature than enables the valve to be used for isolation and to be reopened to its pre-set position to maintain required flow rate. It is an ideal choice because of its lightweight but robust structure.
For more information on the new Public Health Range, please visit our website here or contact us on +44 (0)1744 458670.
PRESS CONTACTS
Hattersley
Louise Renwick
Marketing Communications Coordinator
Tel: 01473 277 7379
Simon Shand-Brown
Marketing Communications Manager

Notes to editors:
1. Hattersley (www.hattersley.com) was founded more than 100 years ago and is one of the world's leading providers of premier cast iron, ductile and copper alloy valves.
2. The Hattersley brand is synonymous with quality, reliability and service to the very highest standards, and has industry experience in many market sectors including heating and ventilation, chemicals, textiles, drugs, water treatment and power generation.
3. Hattersley is part of a portfolio of leading brands including Viking Johnson, WASK, Helden, Sperryn, NABIC, Brownall, Wade, Rhodes and IAT.