Northumbrian Water Supplier Day
July 1, 2015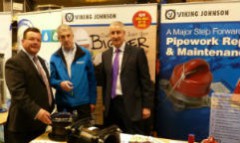 Two new Viking Johnson products proved a huge success at the recent supplier day.
The innovative Ultra Grip Next Generation and award winning Through Bore Hydrant received positive feedback from the Northumbrian personnel and associated contractors who attended.
The event was held at the Washington Logistics centre on 2nd June 2015 and was designed for the Northumbrian Water procurement team to meet suppliers.

The procurement team work for Northumbrian Water Group, which includes Northumbrian Water and Essex & Suffolk Water.
Pictured left to right: Paul Holmes, Viking Johnson Regional Sales Manager, Ian Forsyth, Northumbrian Water Logistics Team Leader and Graham Biggs, Viking Johnson Business Development Manager.