Seminars Demonstrate Viking Johnson Innovation
June 23, 2015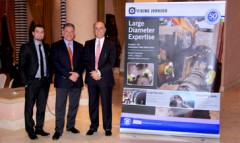 Two technical seminars in Saudi Arabia demonstrated to water companies and consultants how Viking Johnson is a leader in the industry for design, testing and the manufacturing of products.
Held in Jeddah and Riyadh, with channel partner Rezayat, the seminars included videos of Viking Johnson's butt welding, cold expansion and submerged arc welding, as well as showing how the coating process enhances presentation.
Mark Youssef Crane Co. President for MENA introduced Crane Co. and Viking Johnson before Graham Tate, Business Development & Technical Support Manager, presented to the delegates on how Viking Johnson are innovating in the coupling market.
Dr. Pedro I. Iriarte Lecumberri, Resident Senior Engineer for Riyadh Water Supply Master Plan Contracts, said: "Viking Johnson couplings, flange adaptors and dismantling joints are well-known and reliable materials for me. Their versatility and easy usability make them suitable for many situations.
"What I really appreciated about the seminar was the comprehensive and detailed information provided about Rilsan Nylon coating used as protection for corrosion damage. On the other hand, this seminar provided me with a forum where Viking Johnson staff presented their latest technical achievements in pipe repair solutions and it was a good chance to discuss about them and also an opportunity to get feedback from other technical experts in the field and exchange comments with them."
The seminar also introduced the enhanced AquaFast range which offers a number of benefits to the industry including:
Enables easier fitting on oval or coiled pipes
Quick and easy installation with single spanner and visual indication of correct fitment
Support liner not required so ideal for pumped sewage
New Gripper mechanism provides greater flexibility
Progressive gripping and pressure responsive
Pictured left to right: Ahmad Jaber, Viking Johnson Regional Sales Manager, Mark Hopes, Vice President & General Manager Water & Gas Utilities Crane BS&U, and Mark Youssef, President Crane Co Middle East & Africa.