Taking Centre Stage
March 24, 2016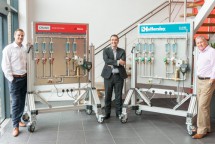 New Technical Training Rigs from Crane BS&U will help train engineers in the new technology that can create energy efficient heating, ventilation and air conditioning (HVAC) systems.
The Technical Training Rigs are designed to create a working example for engineers and customers to understand the components of a system and how they work together to provide an energy efficient solution for the HVAC industry.
Paul Richardson, Vice-President & General Manager, said:
"I am proud that once again the Crane Fluid Systems and Hattersley brands are leading the way and investing in training and development for our customers and users of our systems.
"Energy efficiency is very important to us and these training rigs will help people understand how our products can help to reduce energy costs for our customers whilst contributing to combatting climate change."
The Technical Training Rigs incorporate all of the components needed for a system. Training will help users understand how using the new technology with established quality products from the Crane BS&U range can create a HVAC system that delivers real value for customers and the end user.
The Technical Training Rigs include:
Fixed Orifice Double Regulating Valves (FODRVs)

Pressure Independent Control Valves (PICVs)

Differential Pressure Control Valves (DPCVs)
Actuator (0 – 10V modulating)
Ball Valves
Terminal Unit
Isolation Valves
Metering Station (FMD)
Strainers
Safety Valve
Andy Lucas, Technical Development Manager, said:
"We've developed the Technical Training Rigs to provide an in-depth understanding of how our valves interact with other systems components, i.e. variable speed pump and coils. Being able to see it working means we can demonstrate how changes in one component can impact the whole system, and how to get optimum results from HVAC system."
As well as being on show at conferences, the rigs can be requested to support internal training at customer sites. For more information on how our Technical Training Rigs can help your employees, please email our Sales Office at enquiries@cranebsu.com