UltraGrip at the VandTek Exhibition in Copenhagen
October 10, 2016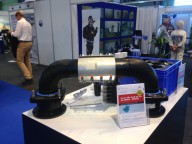 Together with Ulefos AS, Viking Johnson attended the VandTek exhibition in Copenhagen 20-22nd September.
VandTek is a water universe consisting of exhibitions, conferences, and excursions that focus attention on networking, inspiration as well as product knowledge and industry trends. Denmark's objective is to be among the leading nations within the environmental and water area and we were pleased to see this in action at VandTek.
Surrounded by a huge number of world-class water solutions and thinkers, the Viking Johnson and Ulefos team were pleased to have the opportunity to showcase their product portfolio. Across the 2 day event the Viking Johnson's DN600 UltraGrip coupling was featured and extremely well received by many water and contractor companies. The impressive size and presence of the product itself attracted a huge amount of attention and we enjoyed having the opportunity to answer many questions and network with many industry professionals.