Viking Johnson Launch New Barrier Pipe Fitting
July 28, 2022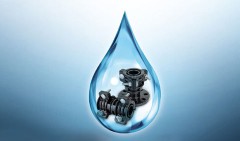 Viking Johnson are pleased to announce the new AquaShield®, a non-permeable universal fitting which is available as a coupling or a flange adaptor and can be used on new installations and repairs to connect different barrier pipe systems reliably.
These fittings prevent contaminants entering water networks by sealing the barrier pipe from within while keeping the outer layer of the barrier pipe intact. It can also be used as a transition to a standard PE water network.
AquaShield® is rated to 16 bar working pressure and has a unique gripping mechanism offering WIS 4-24-01 type-1 end load restraint which means the pipe will fail before the fitting.