Viking Johnson @ AquaTech 2019
November 9, 2019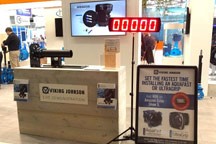 Viking Johnson attended Aquatech 2019 on the Imbema stand and demonstrated how easy it is to fit an AquaFast and Next Generation UltraGrip.
A live clock counter showed visually how quickly an installation can be!!
The demo kit will be showcased around Europe next year. First stop will be Carrefour de l'Eau in France at the end of January 2020.