Viking Johnson Open Day 2022
September 21, 2022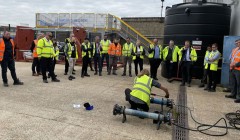 Viking Johnson held an Open Day at their Hitchin manufacturing Facility and visitors centre on 21th October 2022, attended by key partners in the Water Utilities companies.
The packed agenda included presentations on the strategic direction of Viking Johnson and new product developments, a comprehensive tour of the factory and a behind the scenes look at the development and testing facility.
The day concluded with an innovation session which gave attendees and Viking Johnson associates a chance to discuss the issues faced by the Water Utilities Industries.