VJ Exhibiting with Tran-Sig-Ma
May 12, 2016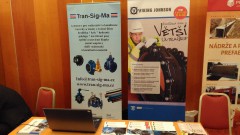 On the 10-11th May Viking Johnson attended the Water Supply Infrastructure Recover Conference in Brno, Czech Republic.
The Viking Johnson UltraGrip product took centre stage demonstrating many of its key features and benefit, including the fact that it is now available up to DN600. Over the two days the Viking Johnson team were able to provide the conference attendees with a short presentation to showcase product developments and innovations. It was fantastic to meet so many waterworks experts in Brno and show off our product range.
If you would like to learn more about our UltraGrip range, please get in touch.