Viking Johnson Retain Yorkshire Water Contract
May 26, 2010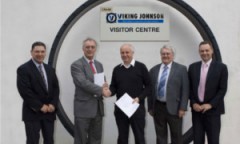 Viking Johnson, a leading utilities brand of Crane Building Services & Utilities, has secured the contract to supply Yorkshire Water with high quality couplings and adaptors. The contract is worth around a £5m to Viking Johnson over the next 5 years.
The Company has successfully supplied Yorkshire Water with couplings and adaptors on contract for the last 20 years. This latest award is the continuation of a long standing business relationship between both companies. The utility framework agreement was signed by both parties at Viking JohnsonÂ's manufacturing site in Hitchin. Malcolm Sykes and David Brown from Yorkshire Water met with Nick Rowe, Mark Hopes and Peter Wilson at the facility to formally sign the supply contract.
Viking Johnson is the world leader in the supply of mechanical couplings and adaptors, pipe repair products, expansion joints and flow control solutions for the water industry. A wide range of innovative and reliable VJ products including MaxiFit, EasiClamp, Flexlock and AquaGrip products will be installed throughout Yorkshire WaterÂ's extensive pipeline network and in treatment works projects over the period of the contract.
With more than 40,000 miles of water and sewerage mains, 700 treatment works and 120 reservoirs, Yorkshire Water supply around 1.24 billion litres of drinking water each day. Viking Johnson products will help in the process of collecting, treating and distributing water around Yorkshire to where it is needed most.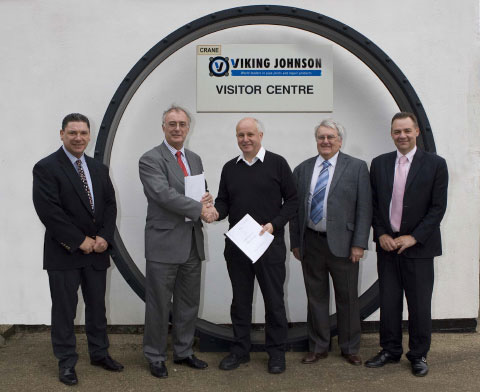 From left to right: Mark Hopes (Crane BS&U), Peter Wilson (Crane BS&U), David Brown (Yorkshire Water), Malcolm Sykes (Yorkshire Water),
Nick Rowe (Crane BS&U)