VIKING JOHNSON SUPPLIES CHINA
February 24, 2011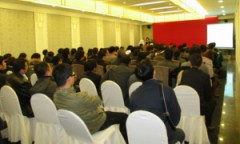 Viking Johnson, a leading utilities brand of Crane Building Services & Utilities, has entered an agreement with AIG Industrial Group Ltd., to supply VJ products in China.
AIG Industrial Group Ltd. has its headquarters in Nanjing, China, and primarily supplies lubricants and sealants for water distribution pipelines and repairs. Coupled with the wide range of fittings from Viking Johnson, AIG will be targeting industrial customers and will be able to supply the 'full package'.
AIG have selected a wide range of Viking Johnson couplings and adaptors to stock including MaxiFit, HandiClamp and UltraGrip ranges.
Nick Rowe, Sales Director at Viking Johnson discussed the partnership; "We are really excited about the opportunities that the Chinese water market will bring. AIG are the perfect partner that Viking Johnson could work with. The Company share our passion for the latest, innovative technologies and exceeding the expectations of our customers."
The partnership will be key to leveraging VJ products in China. AIG has a sales force of over 400 people and is well respected throughout China's steel, aluminium, petrochemical, mining, automotive, marine, paper, pharmaceutical and public utility industries. AIG has a lot of experience in marketing high quality products and will market the VJ range through their subsidiary- The Environmental Gasket Company.
Viking Johnson will spend time building the relationship with AIG and will provide extensive technical training for its sales force.
For more information please contact Simon Shand-Brown, Group Marketing Communications Manager on 01473 277300 or sshand-brown@crane-ltd.co.uk.uk