Viking Johnson to exhibit at IFAT 2016
May 4, 2016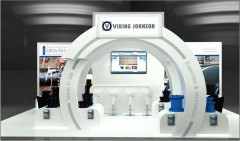 We are delighted to announce that Viking Johnson, along with Arkema, will be exhibiting at IFAT in Munich Germany 30th May - 3rd June, 2016.
With us this year will be the perfect partner for difficult pipe repairs, the Viking Johnson UltraGrip. UltraGrip products have been designed to offer a solution to joining plain-ended pipes and contain an end load resistant mechanism, that grips and seals onto a variety of pipe materials including cast iron, ductile iron, steel, PVC and PE. The proven and successful UltraGrip range has been extended in sizes up to DN600! This will give the customer a single sealing and gripping product solution to cover the majority of the pipes installed in their underground water network.
We are also eager to showcase our AquaFast range which has been designed and engineered to simplify polyethylene and PVC pipe connections. From start to finish, AquaFast offers benefits to the installer, it can be used in wet or submerged applications and on coiled PE pipe. In fact, it can simply be installed with no need to chamfer pipe ends, without the need of a support liner on PE or thin walled PVC pipe nor requiring a torque wrench. We look forward to showing you these benefits throughout the exhibition.
MaxiFit, the flexible solution for pipe repairs will also be on display. This range of MaxiFit universal couplings represents the very latest in mechanical pipe coupling technology. They have beendesigned to accommodate plain ended pipes with different outside diameters, one fitting is able to connect steel, ductile iron, PVCu, cast iron, GRP, asbestos cement pipes and limited lengths of PE pipe for repairs. We will be exhibiting the MaxiFit Plus range with the unique three bolt design that offers better access to bolts when installing, even in narrow and congested trench conditions.
The Viking Johnson market-leading range of Flow control valves will also be on display showing two of the many products in the range. The first one is the Through Bore Hydrant which enables easy internal access to network and mains with no supply interruptions. This innovative product has recently achieved the prestigious Kitemark standard, recognised for its outstanding quality, reassurance and trust and it has also won the acclaimed SBWWI Water Dragons Innovation Award.
The second product displayed will be the Eccentric Plug Valve which can be used to isolate and regulate clean and dirty water, sewage, sludge and slurries, air and other services by using a high strength solid ductile iron plug instead of the cast iron plug as used by other manufacturers. Also, the plug to seat adjustment is located outside the valve and can be changed to compensate for wear on the seat or "rubber set" on the plug without removing the valve from line which is a great time saver when maintaining the waterworks.
The stand will also showcase the Rilsan® Fine Powders product range by Arkema. Rilsan® fine powders coatings have been used since 1967 in the water industry for coating pipes, pumps, valves and fittings. It is a unique high performance polyamide manufactured from a renewable resource of plant origin, castor oil.
We invite you all to join Viking Johnson at IFAT 2016. Hall/ Booth A4.414