Viking Johnson to the Rescue
April 27, 2017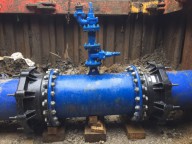 Lower Darwen – Emergency Burst
Contractor – Amey
Client – United Utilities
Viking Johnson's Regional Sales Manager Andy Moore was contacted by Amey PM Jason Grimes with an emergency burst on a Stuart & Lloyd PE Pipe 506mm OD– SDR13.6 on the 14th March 2017 buried in a Brown Field site in Blackburn.
Amey required this fitting immediately as the Pipeline was a strategically significant supply to United Utilities and they could not afford to have the pipeline shut off for a long period of time.
Key requirements were:
A framework self-restrained PE fitting
Available immediately for despatch
Andy was pleased to provide technical support and indicate to Jason and the Amey procurement team that the only Framework PE items that could be utilised were the Ultra Grip and the Aqua Grip (as the Aquafast only goes up to 315mm).
It was explained to VJ that Amey were planning on utilising DI tee's so required a fitting that would work with both PE and Ductile Iron which meant the Ultra Grip was the ideal solution. Despite the fact that SDR 13.6 is not a standard size of PE we had the Ultra Grips and liners in stock within one of our Distributors (Frazers) for immediate dispatch.
Ultra Grip products are designed to offer a solution to joining plain-ended pipes and contain an end load resistant mechanism, that grips and seals onto a variety of pipe materials including cast iron, ductile iron, steel, PVC and PE. The 500mm Ultra Grip that was required for this project gave Jason's installation team added comfort due to the Wide Tolerance of this fitting (>54mm)
The fitting was installed successfully and the line was put back in to service
Project Manager – Jason Said: "Once we approached Viking Johnsons RSM Andy Moore, he provided us with detailed technical information which allowed us to make an informed decision on what was the correct fitting to utilise. It gives Amey and the client peace of mind knowing that once a Viking Johnson FA or Coupling is installed that we don't have to worry about it for up to 50 years! "
Installation Manager – Simon Said: "We wanted a fitting that gave us as much flexibility as possible while we were in a confined space, the Ultra Grip not only offered us a high level of tolerance allowing for quick positioning but also ease of installation as the captive bolt heads ensured that they were in place ready to tighten."