Viking Johnson at AquaTech 2017
October 31, 2017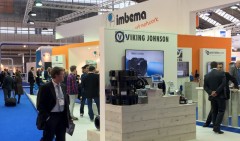 Viking Johnson exhibited at the Aquatech show at the Rai in Amsterdam (31st October to 3rd November) with their trading partner Imbema.

Viking Johnson show cased the new AquaFast Large Diameter ideal for joining PE pipe connections, Next Generation UltraGrip, QuickFit and Dismantling Joints.
AquaFast LD now allows for PE connections to be made from 355mm to 450mm diameter pipe and is designed for simple and dependable trench installation every time.
No specialist tools are required for AquaFast LD and the umber of bolts to tighten is minimal. One size fits multiple pipe SDR's and installation on oval pipes is possible because of a built in higher tolerance.