VJ MaxiFit Plus Launched
December 10, 2014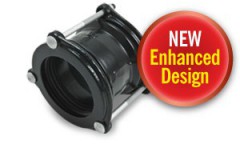 Viking Johnson has introduced MaxiFit Plus, a product line extension to the already established MaxiFit product range.
MaxiFit Plus has a distinctive three bolt design that allows significantly faster installation to reduce trench risk for the operator. Some of the additional product benefits include:
Better leverage for torque
Lighter product for more convenient shipping and reduced handling costs
Wide tolerance to allow lower stock holding
Better access to bolts, even in narrow and harsh trench conditions
MaxiFit Universal pipe couplings are designed to accommodate plain ended pipes with different outside diameters. One fitting is able to connect a wide variety of pipe materials including steel, ductile iron, PVC, cast iron, GRP and asbestos cement pipes amongst others.
The MaxiFit range is available in sizes DN40 to DN700 and the full range consists of MaxiFit & MaxiFit Plus couplings, MaxiFit Xtra long sleeved couplings, MaxiStep reducing couplings, MaxiDaptor and MaxiFit Plus flange adaptors, MaxiCap, MaxiThread End Cap and MaxiFit Large Diameter couplings and flange adaptors.
MaxiFit range has been designed in response to customer requirements. This versatile range is pre-assembled with an innovative gasket with 'slide easy' ribs that reduce friction on pipes at the upper tolerance range of the fitting, providing maximum sealing pressure, even on scored, pitted and corroded pipe surfaces. The captive non-rotating bolt heads require just a single spanner to install with just one standard bolt torque across the range.