WASK & SPERRYN SHOWCASE INNOVATION AT GASTECH 2011
February 9, 2011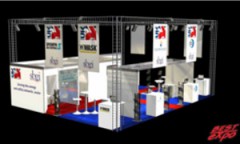 WASK & Sperryn, gas utility brands of Crane Building Services & Utilities, are attending Gastech, at RAI Amsterdam from 21st to 24th March. Both brands will feature on Stand B140 with the SBGI (www.sbgi.org.uk), the trade association for the UK onshore gas industry.
Market leader in the supply of specialist mains and service fittings, along with pipeline equipment of the highest quality, WASK (www.wask-uk.com) is renowned in the global gas distribution market. WASK will showcase it's latest innovation; the modular Riser and Laterals system, which enables PE pipework to supply gas into single and multiple occupancy dwellings. Developed to reduce installation time and costs, the fittings are lightweight, maintenance free and corrosion resistant.
Sperryn (www.sperryn.co.uk) is a leading supplier of meter installation kits and emergency control valves and regulators for domestic, commercial and industrial applications. Using the latest design facilities and technologies, Sperryn regulators offer increased capacity, accuracy and lower pressure drops.
Gastech 2011 will mark the 25th edition of the conference and exhibition, which brings together technical and commercial players, of the gas industry, to meet, discuss and exchange ideas. The exhibition, which features 250 companies, is complimented by a conference which discusses issues impacting the gas industry. Last year, Gastech attracted nearly 10,000 visitors from over 75 companies worldwide.