AquaFast Large Diameter - Selby Bypass - Water Distribution/ Supply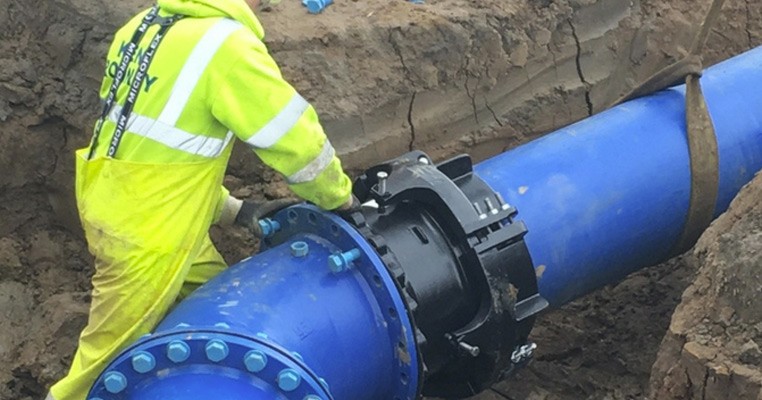 The A63 Selby Bypass is a 10 km single carriageway built to relieve severe traffic problems in Selby town. The bypass runs south of Selby, between Thorpe Willoughby and Barlby in North Yorkshire.
The Problem: During a planned shut down near to the Selby Bypass, Morrison Contracting found they were one fitting short to finish the work in the planned timeframe. Not completing the work would have required an additional shut down, adding cost to the project and further impacting the local residents and farmer whose field the site was in.
The Solution: Unable to wait on the usual lead time to get the fitting needed Morrison contacted Viking Johnson, who manufactured and delivered a 450mm AquaFast Flange Adaptor within 7 days of the original request.
"It's great to know that this new fitting is a perfect option for PE and has such a short lead time. Impressive work!" stated Morrison Procurement Manager, Joe Kelly.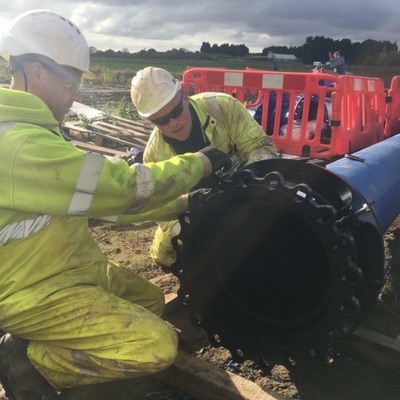 Benefits of an AquaFast Large Diameter Flange Adaptor include:
• Adaptor can be used for repair - no internal restriction ideal for Sewage applications.
• Fittings comes fully assembled.
• Suitable for connections in wet/submerged conditions and above ground applications.
• No requirement for a support liner, torque wrench or any other specialist equipment on site.
• Easy to centralise on the pipe.
• Reduced stockholding - One product can connect one nominal pipe size with common SDRs (11 & 17/17.6).
• 50 years design life expectancy.
• Reusability - No spares requires for multiple installations.
• Saves time and effort as Contractor only has to identify PE pipe nominal size to select correct fitting.
• Minimal number of bolts to tighten.
Stuart Eaton, Site Agent for Morrison, had this to say about the ease of use of the AquaFast Large Diameter Flange Adaptor.

"It was immediately noticeable that the product was quick and easy to install, at the same time we found the visual indication really useful giving us peace of mind that the fitting was to the correct Torque level without the need of a calibrated torque wrench. This product didn't need a support liner which made the installation process quicker and easier with the fitting installed within around 20 minutes."